Training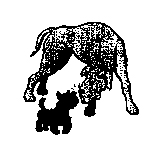 Does Rover need manners and socialization? Does Fifi want a career in the show ring? Motivational pet obedience classes, private lessons, or in-kennel training are available year 'round. Conformation classes are available as group or private instruction.
We follow the generally accepted course of training and hold standardized exercises and training games. In addition, we will help you with general dog/puppy problems including:
Digging
Barking
Jumping
Not Coming
Biting
Housebreaking
All family members are encouraged to attend classes. We ask all adults to work with the dog and the kids. Everyone benefits from consistency in lessons and homework.
Upon completion, if you and your dog have done your homework, your dog will be able to walk comfortably by your side on a loose leash, come when called, stand quietly and let a stranger pet him/her, sit calmly and lie quietly.
After graduation we offer Canine Good Citizen evaluations.
Our focus is Humane Training, using Motivation, Praise, Food, and Reward. Socialization with dogs as well as people is emphasized.
Requirements
Your dog must be at least twelve weeks of age and have completed his or her full series of puppy shots, including distemper and bordetella (kennel cough). Rabies vaccines are required for all dogs old enough for them. Proof of vaccinations is required.
S.T.A.R. Puppy Class Requirements
Your puppy must be under one year of age and may begin the S.T.A.R. Puppy training as young as 10 weeks of age.
No Dog Too Old
Although there is a minimum age requirement, it is NEVER too late to teach an Old Dog New Tricks.
What to Bring
All necessary equipment is included in the cost of the class. You provide the dog, the treats, the praise, the work, and the love. We provide patience, guidance, advice, assistance, biscuits, water, and love.
Obedience Form
Click here to download the obedience class registration and release form. Bring it with you to save time.
What to Wear
Please wear comfortable clothing and soft soled shoes. Come prepared to have fun with the other dogs and people as well as your own dog.
General Comportment
Common courtesy is expected. Please do not let dogs run loose or leave them unattended. If your dog has an "accident" please clean it up. We want you AND your dog to enjoy classes. We cannot allow jumping on or biting other dogs or people. Sniffing other dogs can lead to aggression (or dating) and is not encouraged. As in any situation, keep an eye on your dog at all times. Please leave the facility as clean as you find it. Do not leave children unattended.
Illnesses
If your dog becomes ill during the course of the class, you should attend class without him/her. Although refunds are not available, if there is a problem we can make individual concessions.
Progress
You are responsible for the progress of your dog. Homework is essential and should be a daily routine. Several SHORT, fun sessions work best.
Scheduling
Classes meet one day a week for one hour, for nine weeks. Allowances are made for severe weather and holidays. Classes are held Monday evenings at 6:30 p.m. or Thursday evenings at 6:30 p.m for six weeks for the Puppy classes.
If you must be out of town for a class session and the dog is boarding at Belle Creek Kennels, he/she can tell you what you missed because the dog will attend class without you.
Fees
The registration fee of $150.00 is due in full no later than the second week of class. The Puppy class fee is $90.00. A deposit sent in advance guarantees you and your dog a place in class.
Contact Us
Your instructors can be reached during Belle Creek Kennels' regular business hours by calling (734) 421-1144.